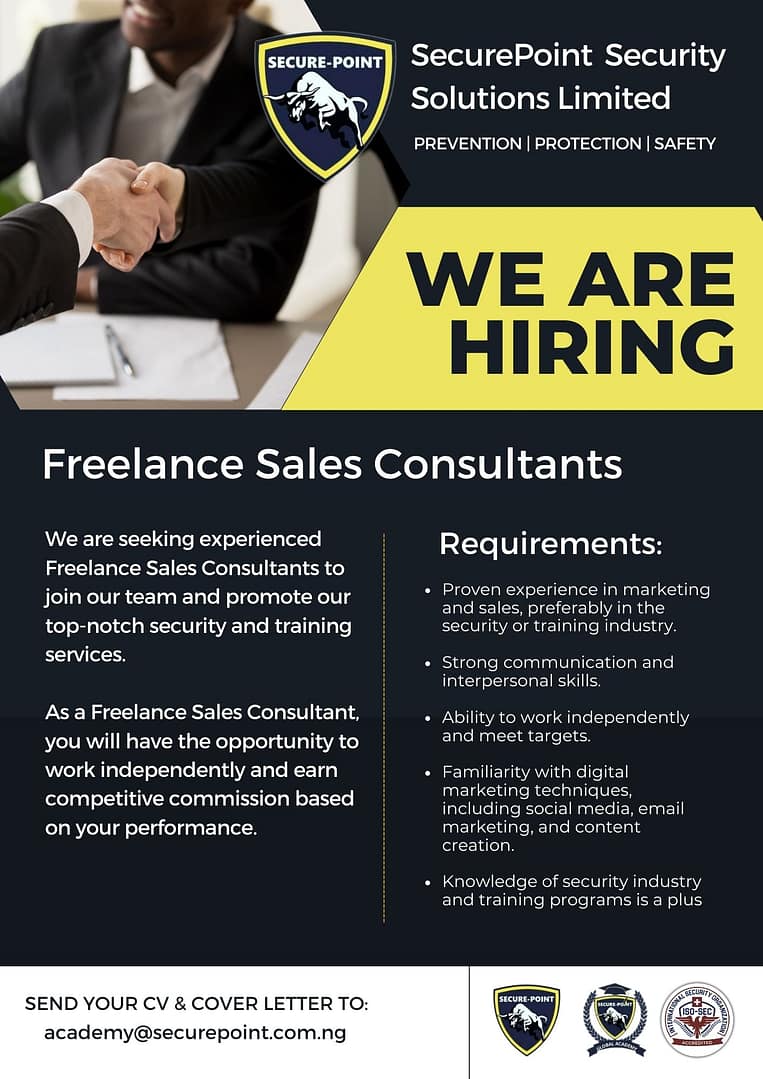 Secure-Point, Your First Stop
Secure-Point is one of the dozens of a new breed of private military security companies that sprung up in the year 2006 in Nigeria. Retired Military officers and trained intelligence officers founded it in 2007 as a Private Limited Liability company. The company started business immediately and showed from inception that it is poised to revolutionize security services in the country, which has resulted in making us a firm security services provider in the nation.
Having been efficient in operation this long, we have been able to attract and retain a number of clients, some of whom are retain from inception till date. We have acquired vast experience in virtually all facets of security and protection of lives and property.
We are Secure-Point Security Solutions Ltd, to carry on the business of a security firm and to provide for the physical protection of persons and property. To supply any person or persons (corporate or incorporated) with ideas, plans, strategy, advice, information and all assistance required to meet security imperatives.
Secure-Point vision is to be the most professional security leader in the industry by exceeding our customers' expectations and creating client-agency working partnerships, while valuing each and every employee.
Our mission is to exceed our clients specific and customized security needs by delivering the highest quality of professional private security services based on trust and confidence.
Our success is rooted in our employee-oriented focus, our promise of excellence to our customers and a sustained commitment to innovation in the field of security solutions. Secure-Point focus on the following:
Major Security Services
We engage in site and facility security, logistic security, house hold security, executive close protection and VIP pick up, 24/7 operational monitoring technical security, tracking and locating, event security management, outsourcing, physical security solutions, background checks and vetting, Protocol and escort, guard manning.
We Train
We train, equip, provide and supply security guards and security personnel.
We Breed and Train
We train, equip, provide and supply We also breed, raise, train, supply and deal in guard dogs, watch dogs, sniffers, hunting dogs, attack dogs and animals required for security or other purposes and to deal in animal supply.
Security Management System
We plan, devise, produce, install, set up, establish, maintain, use and sell of security systems, whether or not in relation to fixed property and to deal in telecommunication systems and equipment.
We Supply
We supply and deal in (or manufacture) alarms, security lights, anti-burglary devices, fire detectors, surveillance equipment, and security equipment.
We also equip, maintain, supply and deal in security vehicles, to carry on business as proprietors and managers of safe deposit, depositories and repositories.
Accidental or Conducive Service
We do all such and other things as maybe considered being accidental or conducive to the attainment of the other five offerings or any of them.
You can use these sections to highlight the features of heading. Use these paragraphs to focus on the topic you want. Make sure you keep it short, attractive.
Juan George​
Vice President
Emma Kelly
Creative Director
We Provide Top Notch Services In The Security Industry​​
Let us take care of your security needs.